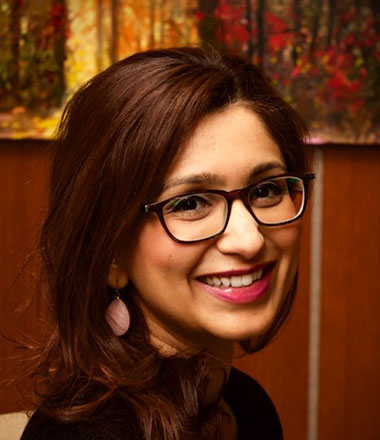 Thank you for taking the time to get to know Dr. Tehnia Aziz.  She is a board-certified Orthodontic specialist from the Royal College of Dentists of Canada.  She has over 15 years of experience of independent practice in dentistry and has restored smiles for thousands of patients at Strathcona Orthodontics for the past 6 years. 
She completed her Doctorate of Dental Surgery degree at the University of Alberta in 2005.  She went on to practice general dentistry in Minnesota, Toronto, and eventually Edmonton, often working in practices geared to helping underprivileged patients. While balancing a busy clinical practice and having 3 children, she pursued further post-secondary training at the University of Alberta, completing her first Master's of Science degree in evidence based dentistry.
Soon after, her passion for learning lead her to complete a 3-year sub-specialization fellowship in Orthodontics at the University of Alberta. Dr. Aziz completed a second Master's degree in Orthodontics, highlighting the role of orthodontic appliances to improve upper airway obstruction and sleep disordered breathing.  During her master's degrees, Dr. Aziz authored numerous publications in several reputable orthodontic journals.  Her clinical performance and passion were recognized when her patient nominated the Orthodontic department for the Champion of Care Award presented by the University of Alberta Hospital Foundation. Her academic performance was awarded with several prestigious scholarships.
After graduating from the Orthodontic specialty, her professor and mentor from the University of Alberta, Dr. Terry Carlyle, selected Dr. Tehnia Aziz to be his successor at Strathcona Orthodontics.  She has distinguished herself as a top tier Invisalign (i.e. Invisible braces) provider in North America.  Her outstanding results have been published as teaching cases in the Invisalign Gallery.  As well, she takes pride in helping others through assistance programs such as NIHB and the OMDS program.  She also works in collaboration with IRSM to help patients with oral cancer restore their dentition. In addition, she is a part time Orthodontic instructor in the dental program at the University of Alberta. 
When she is not delivering exceptional orthodontic care, she spends quality time with her husband and 3 children, consisting of 2 teenage boys and a preteen daughter.  Dr. Aziz finds relaxation in baking, gardening, exercising, hiking, spiritual enlightenment, and travelling.  She derives immense satisfaction in performing kind gestures for her family, friends, co-workers, and those in need.
Dr. Aziz and her team's philosophy is to treat patients like their own family members.
Because many orthodontic treatments span well over a year, Dr. Aziz and her team thrive in building long-term relationships with patients and their families.  It especially warms her heart to receive thank you cards and photos of former patients highlighting their beautiful smiles during special moments of their lives like graduations, birthdays, and weddings.  She takes pride in utilizing the latest technological advances in orthodontics to deliver exceptional patient care in a warm and welcoming environment.
When you visit Strathcona Orthodontics, it is not uncommon to hear boisterous laughter from Dr. Aziz and the team as they truly enjoy working together, have pride and passion for their profession, and most importantly a love for their patients.
 Please come and visit.  Dr. Aziz looks forward to meeting you soon.